Setting up an e-commerce website is very important for e-commerce businesses. So to start an e-commerce business, you first need to set up a sales site. Today's we will highlight how to create an e-commerce website attractively.
The trend of trading through the internet is fast gaining popularity. Delivering the product safely to the buyer is very important. Once a buyer orders a product, the sooner you can get the product to him, the better for your business.  And this work is being done in a very beautiful and smooth way through the e-commerce site. Around 206 million people worldwide use e-commerce sites to buy products online.
What is an E-commerce Site?
E-commerce is the use of business transactions and facilities through the Internet.  A simple example of selling products online. In fact, it is the way to conduct any business through electronics. And the websites that work with these are called e-commerce websites. Through e-commerce sites, millions of people can buy their necessities without any hassle and safely at good prices at home. It is a business through which you can earn a lot of money. Its popularity is increasing day by day in the internet world. Creating an e-commerce site is not easy and it is not possible for everyone. It is very important to have complete knowledge about it in order to create it.
Today's article will discuss the detailed rules and regulations for creating an e-commerce site.
Benefits Of Having A E-commerce Site
Ecommerce sites play a big role in business. In addition, to get commercial success internationally, you must sell products online. If you want to survive in the global market, then you have to build an e-commerce site. Below we will discuss its benefits in detail.
1. Lower Costs:
It doesn't cost much to build an eCommerce site. This is a huge opportunity for new entrepreneurs to succeed in business. This requires domain hosting and hiring a web developer. And if you want, you can hire a permanent developer for your site. So this is one of the benefits of starting an e-commerce site.
2. Increase the spread of business: 
With the advent of e-commerce sites, online business is booming. Helps to advance in the field of online business. Nowadays eCommerce business has become popular. Everyone has become interested in shopping online.
3. Sales growth:
Sales increase due to online product sales. The customer can easily order the product online by entering the website. In this case, they can easily make the payment through a card or bank.
4. Store set up:
This is one of the advantages of which you can get your own store ready on an e-commerce site. It is also easy to keep track of how many products are being sold and how many products are entering the store. Having an e-commerce site allows you to store products online in a beautiful way.
5. Time saves:
If someone sells a product through a shop or shop, there is no time for everyone. Again not all employees can be properly supervised whether they are doing the right thing. And because of being on the e-commerce site, the owner can see everything for himself. How many words are pending or how many products are in-store can be known at home. So a lot of time is saved. On the other hand, time is saved for those who will buy the product. They do not have to go to the store to buy. No matter how busy a person is, in this case, no extra time is wasted for buying and selling.
Disadvantages Of E-commerce Sites
While there are considerable advantages to having an e-commerce site, there are some limitations. For this reason, there are some disadvantages that we need to know. Because when it comes to doing business, it is good to know everything in advance. Below are some of the disadvantages.
1. Hackers attack:
If the site becomes very popular or the site may be hacked for some other reason. Therefore, the security system for e-commerce sites should be better. And if the site is hacked, you will face many losses in business. So eCommerce sites need to be more secure. This requires a skilled web developer.
2. Technology costs:
In today's world technology is increasing day by day and the demand for eCommerce is also increasing. So you have to keep a huge budget for an e-commerce site and do regular maintenance. You need to hire an SEO specialist to rank your website. And Web Developer has to be kept in a permanent way to handle the site. So much cannot be done by one owner. So you have to come to this eCommerce platform keeping in mind the cost of technology.
3. Product delivery delay: 
Products cannot be delivered very quickly as there is often a shortage of delivery men. Besides, there is a traffic jam at the roadside. In many cases goods have to be shipped from one end of the country to the other. Due to this, there may be a slight delay in delivering the product to the customer on time. In addition to sending the product away, you have to send it by courier or your own delivery van. For this reason, product delivery is one of the problems or difficulties in eCommerce.
4. Product spoilage:
In case of delivery of goods, one has to take delivery service from good courier service or hire a delivery man in one's own arrangement. In many cases goods are broken or damaged in the field of delivery of goods in lorries or covered vans. Again, product theft can be due to a lack of trusted people. Which becomes a loss for the e-commerce business financially.
5. Labor costs:
The e-commerce sector must employ a lot of skilled manpower. Workers have to pay regular wages. Many companies are struggling to pay their salaries. Many workers will work here and they will have to be given benefits. They will act responsibly if their interests are protected.
Some Steps To Creating A Website :
Domain 
The domain is your address. Facebook.com, Google.com are examples of domains.  Domain names are usually the same name you choose in business. The money that is spent to buy the domain, every year with this amount of money to renew it. Many local and foreign companies can help with the sale of domains. If you want to buy a .com.bd domain then you must buy from a local company. Besides name.com, godaddy.com is a good foreign company.
Hosting 
You need a web hosting service for your website so that people can see your website on the internet. The function of this service is to store your website data and files on a separate computer. And when someone uses the Internet to enter your website's domain name into their web browser, this web hosting will send all the files and data from your website to their browser.  As a result, anyone can easily access the website.
Money Invest 
Our money is needed to start any kind of business. Similarly, before starting e-commerce, you should have adequate money because no business can be complete without investing / expense. To start an online business, you must spend money in order to create a website. You will also spend money on your e-commerce products. There are many things in a business where you may have to invest money. Therefore, the most important thing to start a business is that if you have enough money that can open your own e-commerce site, then do not invest money then it will not happen. 
Plan 
The first step in starting a business is to plan. Except for business planning, you will not be able to guess what you need to do, you can not pay attention, and face you many problems in the future.
Here Are Some Steps To Set Up Commerce Website On WordPress:
Below is an eCommerce site setup using the Woodmart theme.
Step#1: Log in to Your WordPress Admin Dashboard.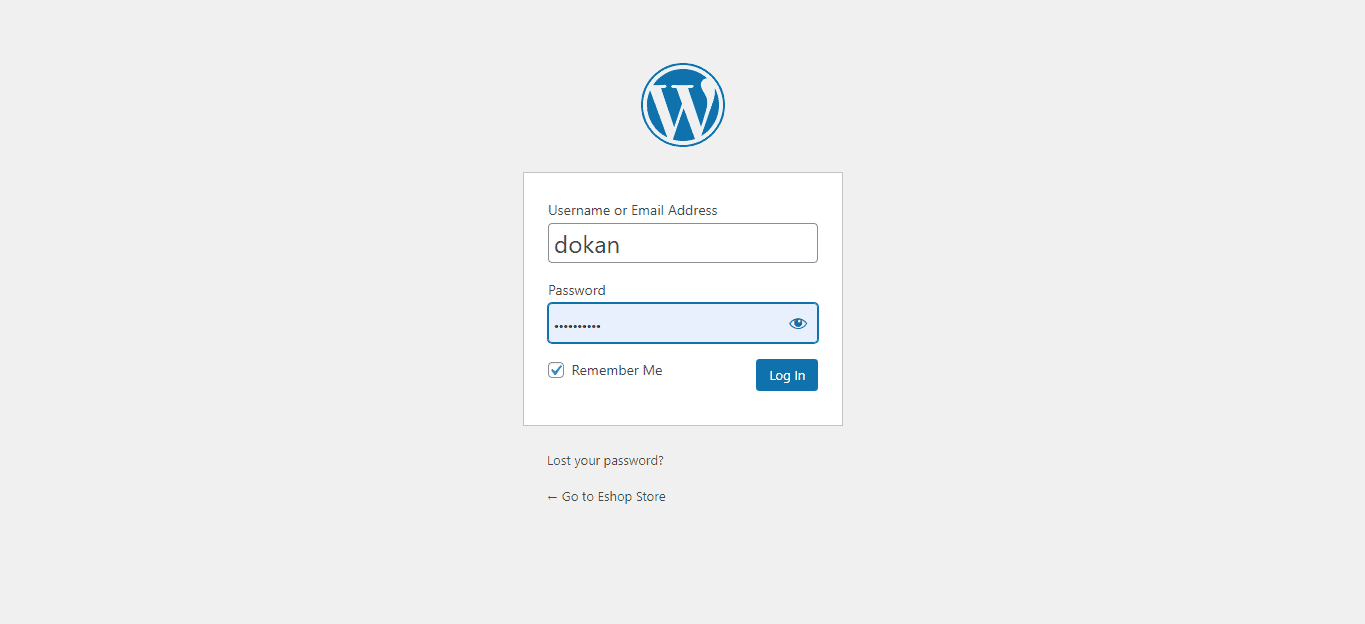 Theme 
We all know about themes. A theme makes a website visually appealing and attractive. Themes are mainly two types of free themes, premium themes. Many of us work with free themes but many of them use paid themes as there are few features of free themes. The amount of money it takes to buy a paid theme often depends on the quality of the theme.
Step#2: Theme Upload
In WordPress Admin Dashboard you will see  Appearance option > then click Upload  Theme>  and install your theme to click install option. Below you will see the process of uploading the theme in the screenshot.
After installing the theme, you have to activate the theme.
Plugin
The plugin is software. We all know that working on WordPress or any other CMS requires a lot of time coding to do big things. But the plugin has made these tasks easier. Now installing plugins is much easier. Anyone can install it with one click. Many times you have to buy many plugins. The price of these plugins depends on their function.
Step#3:  Plugin set up
If you go to the plugin option, you will see what plugins need to be installed.
After installing the plugin you need to activate all the plugins.
Step#4:  Base Import.
Click the WoodMart option >  you have to import all demo content. You will see the > Import Base Data option.  Click Base Import and wait a while until all the content is imported.
A full demo of an e-commerce site will be installed after all the above work is completed. Which you can later customize and arrange as you like. Below is a demo of an eCommerce site.
Content 
There is no website without content. The value of a website can be determined by looking at the content of that website. When writing content, many people write on their own site.  Again many hire writers. In fact, if you want to write something about anything, you need to know enough about it. Freely typing or writing does not mean content. So many people lose content writers from different freelancing marketplaces. A writer can be hired based on 1000 words or per hour.  In this case, a writer has to pay at least 5-10 dollars for every 1000 words.
Developer
Many times we create many e-commerce websites or any official website. There are a lot of coding issues in creating these websites that you need someone who is an expert in coding. In that case, you must hire a developer. It will cost at least 5-10 thousand dollars.
Shopping cart software
The main purpose of your e-commerce site is to sell products to your customers and to sell products to your customers, you need shopping cart software. This software allows your buyers to see things on your website and choose and buy what they like. Shopping cart software allows your customers to securely purchase their favorite items using their credit cards. This service protects your credit card and your order data details from other people's eyes.
There are many who want to create their own personal blog website. In this case, they only need to take 1 domain and 1 hosting i.e. premium themes, plugins, writers are not so important to them but they must have some idea about website SEO or they may need to hire an SEO expert.
And if you want to create an official or e-commerce website that has a wide variety of features then you need to hire themes, plugins, and developers.
Conclusion
Creating an eCommerce website is not a difficult task, if you have complete information related to all the topics related to you and above then you can easily create your website and make a good income. In this post, we have tried our best to give you all the ideas to create a website. If you have any questions on this topic, please let us know in the comments. Thanks to everyone for coming to our site.